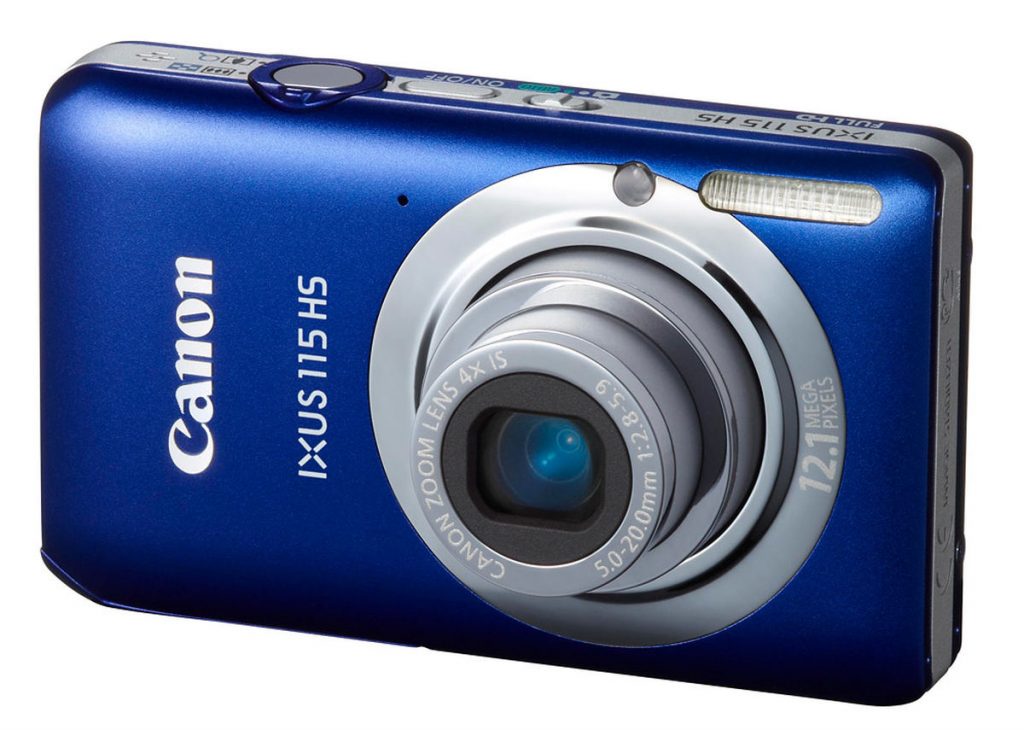 This is one of Canon's 'don't make me think' range of cameras and, if you want a pretty camera to point and shoot, or record your memorable moments, then this will do the job very well. The 12 Mega-pixel file size gives you good detail and will blow up enough for most requirements. The lens zooms 4x from about 28mm to 112mm, which is perfect for group shots, party pictures or portraits. Canon's Image Stabilizer system endeavours to counter any camera shake. The Smart Auto function detects 32 different scenes, allowing you to leave all the decisions to the camera and Movie Digest records 4 seconds of video before taking the still, joining all the clips together to produce a mini-film of the days events for you. The Ixus 115 has a fast 8~Frames per second burst rate – though I can't think what it would be used for. It also has a selection of effects, such as Fish-eye, miniature and toy camera to keep your pictures fresh and creative.
This is an ideal camera for those who want their pictures and videos to enhance their memories. It produces great quality at the press of a button
The LCD screen is large enough for you to show your efforts instantly to your friends and especially useful when shooting video. The quality of the Video is stunning, considering the price and range of this camera. It shoots full (1920 x 1080) HD video, with Image Stabilizer, and an HDMI socket allows you to plug it straight into your TV.
The metal body is slim and chic, but feels sturdy and tough in the hand. For the more daring, there is a waterproof case available, that will allow you to take pictures up to 40 meters underwater.
The Canon Ixus 115 HS Features
HS System (12.1 MP):  The HS ( high sensitivity) system is great for low-light and the file size is impressive.
4x zoom and Image Stabilizer: Not designed for distance shots, it will give you good round-the table images and portraits.
7.6 cm  LCD Screen: Large and bright, makes shooting with this camera very easy.
Full HD Video with dynamic Image Stabilizer: Really impressive for a camera in this price range – and it plugs into your TV.
Smart Auto (32 scenes): This takes all the thinking out of picture taking.
High-speed Burst & Super Slow Motion Movie: Neat tricks to add to your reportoire.
Movie Digest: Takes 4 seconds of film per still. Clever – who knows how this will be used in anger?
Creative shooting modes:  Offers you different effects to keep those pictures fresh.
For more information, visit the site