The Nikon D4 Straddles the Stills/Video Divide

The D4 is an Ideal Camera for the Professional Photographer and Videographer
The Canon 5D markII set the standard for the professional photo/video camera. It is no surprise that Nikon's response has upped the ante in both departments. However, instead of revolution, Nikon have chosen to improve incrimentally in many areas – the main changes in the stills department have been aimed at making the camera quicker and easier to use. A 16 mega-pixel file size is modest at this level, though 10 Frames per Second is useful, particularly with Autofocus.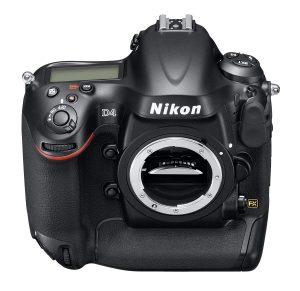 The improved sensor on the Nikon D4 gives the better metering and Subject Tracking and extends face detection for the optical viewfinder. Extending the ISO range from 50 -204,800 is impressive, but surely would only appeal to specific niche – perhaps ill-lit night time sports or nature photography. The Kevlar/carbon fiber-composite shutter unit boasts a standard life cycle rating of 400,000 releases. There are some ergonomic improvements, making the camera easier to handle and the buttons easier to manage. The Nikon Wi-Fi transmitter allows you to see the Live View on an iPad, which can also control shooting mode and trigger the shutter, which might also be useful for the nature photographer.
The Nikon D4 is aimed at professional photographers and videographers who want the combination of top quality video and extensive lens flexibility. It will also appeal to specialist amateurs who shoot in very low-light and want to shoot remotely.
Of course, the main big change is in the video department. Nikon have seriously upgraded their video output to full HD (1080p), full native HD (1920 x 1080p) and even allows you to feed full, uncompressed video into external viewing devices. In other words, it offers full broadcast quality video and stereo sound. An Out Mic lets you set the sound levels before shooting.